Prosono's Perspective on Strategy Adjustment in Response to COVID-19
A few weeks into the COVID-19 pandemic, Prosono is hearing back from many of our partners and clients. Many organizations have commented that they have a sustainable path to weather the next 3-4 months but are asking questions like, "What will I need to change to survive beyond COVID and a potential recession? How do I pivot or persevere my existing strategy?" Clients asking these questions either have made really difficult decisions for the medium term or their organization is already sustainable for the medium term. For organizations trying to prioritize in the short term, check out our Priority to Action Framework we shared last week.
With their immediate plans in place, many organizations need to figure out what is next with the limited time and resources they have. That time should not be squandered, and now is an opportunity to use one of the greatest assets for an organization's strategy: experimentation. It is critical, especially in the current climate, to approach experimentation with an abundance mindset.
An

abundance mindset

means looking at the future with possibility

, and as hard as it might be,

f

acing the issues

at hand

with the belief that

there is a solution.
This is an opportunity to look at your work and programs as dynamic operations to be reconstructed, redeployed, or eliminated, and with a sense of opportunity.
Experimentation

is the way to actualize the abundance mindset. It is the model to use when you have time

,

but not the solution.

Experimentation

is often

met with resistance

but can

,

and should

,

be

conducted in a safe and revers

i

ble

manner. At its core, experimentation helps businesses validate or invalidate

their core beliefs

or assumptions

,

and

is designed to produce learnings

to key questions

, regardless of results

.
Strategy is a mechanism to focus your efforts. Now more than ever, time is a valuable asset that we must use well to either pivot or persevere, so we can thrive in the future. Several years ago, Prosono created an experiment-based strategic planning method that we call Organizational Agility. This approach to strategic planning has helped our clients do amazing things with their business, products, and programs.
Key to any of our strategy projects is an understanding of the landscape, perceived options, assumptions, and desired outcomes. Knowledge of these elements helps clients determine the art of the possible while narrowing what not to do, what not to learn, and what not to experiment. Some of the tools we use to build our strategies for clients, and things you can do with your team and/or organization right now, include:
Asset Mapping – Take an inventory of your assets (financial, human, sustainability, process, products, etc.), look at your needs (through the lens of your stakeholders), and then see if you can reconfigure solutions. This analysis can be used to help organizations directly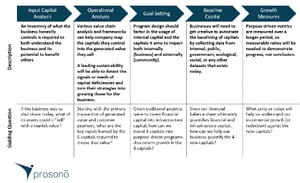 contribute to the COVID response.
For
example,
DaVita
recently
took a tho
ughtful look
at their internal assets and
decided to
reconfigure and repurpose
th
eir
cafeteria to help
prep
meals for those in need.
Market Validation – Your market is changing, but your products are the same. Now is an optimal time to validate your existing products, products in development, new service ideas, and new market needs.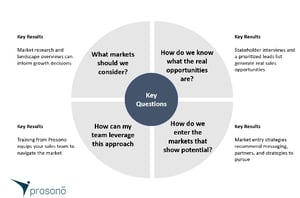 For example, one of our clients in the ed-tech space was operating brick and mortar schools and a digital platform. Through a market validation effort, they recognized the opportunity to pivot their existing strategy to lean into their tech platform and service solutions and, as a result, reach more schools.
Improve Operations through "Sprints" – You have 25 projects on the shelf that "if you only had time" could create efficiencies. Run short, time-boxed (e.g. 2-3 week) sprints to complete a set amount of work to get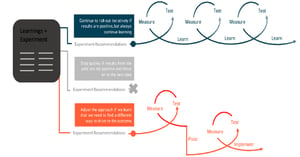 through those projects throughout the organization. One of our clients used 3-5 sprint teams to explore new products and services over a three month window to inform their strategy.
Ecosystem Mapping – Understanding the new dynamic of your market, including the key functions, roles, and dependencies, has never been more important than now to have a level of certainty for your future. One of our clients leveraged ecosystem mapping to focus their social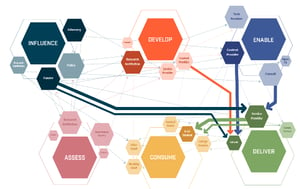 impact work in areas that were less saturated and where gaps in the
system
existed.
This tool
helped our client better define and align efforts
, define
core
programs
,
and
improve their ability to deepen social and business impact.
These tools have been very useful to Prosono and our clients when developing a strategy. It is our hope these tools will be useful to you now as you analyze your existing strategy and test assumptions on how to pivot or persevere with your strategy. Please reach out and we can share the appropriate tool and an overview to help you put it to use immediately.
As always, Prosono is here to help, and the best way to reach us is by email at prosono@prosono.com. Now, more than ever, we need each of us to use our time well and have an effective strategy to accelerate our recovery when this pandemic assuages.